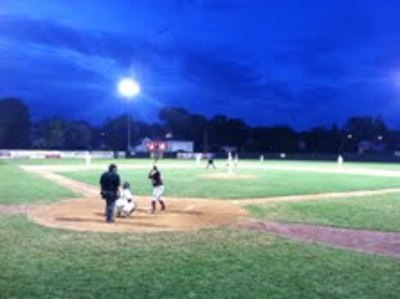 Albany, N.Y. – The Albany Dutchmen (12-7) split a doubleheader with the visiting Cooperstown Hawkeyes (10-8) on Tuesday night at Bob Bellizzi Field.
Cooperstown took game one 9-6 behind a pair of four-run innings, and Albany won game two 6-4 after a five-run 4th inning.
In the first game of the doubleheader, Albany starting pitcher Kyle Pheland (Salve Regina) gave up four runs in the top of the 1st, putting the Dutchmen in an early 4-0 hole. The Dutchmen responded with two runs in both the 2nd and 4th innings, led by a 2-RBI double from Nick Morton (Trinity).
Cooperstown added four more in the 5th, aided by RBI doubles from Ben Hall (Central Alabama CC) and Cameron Day (Norfolk State). Morton knocked in his second run of the game in the 6th for Albany, and Anthony Marks (Coastal Carolina) brought in a run to make the game 8-6.
But Cooperstown added an insurance run in the 7th, and the Dutchmen could not muster any more runs. The Hawkeyes won 9-6 behind starting pitcher Jack Stover, who improved his record to 2-0, handing Pheland (2-2) his second loss of the season.
Game two also started off with some early Cooperstown run support when Cameron Day drove in his second run of the doubleheader in the top of the 1st. But after the Dutchmen tied the game in the 2nd inning on a Chris Bianchi (Trinity) sac fly, Albany exploded for five more runs in the 3rd.
Tyler Orris (Millersville) and Marks led off the bottom of the 3rd with singles, and Brad Noland (North Alabama) knocked in Orris on an RBI groundout. Another Dutchmen run scored on a Cooperstown throwing error, before Matt Dacey (Richmond) added to the Albany lead with an RBI base hit of his own.
At the end of the 3rd, the Dutchmen led 6-1 and would not give up the lead. Cooperstown threatened with 3 runs in the 4th, but starter Matt Gallup (Albany) kept Cooperstown to just four runs on five hits.
Gallup got the win in a 6-4 victory for the Dutchmen, improving his record to 2-1 on the season. Cooperstown starter Cooper Jones (Norfolk State) picked up his first loss of the season, while Thomas Belcher (Indiana) collected his first save.
Albany will be on the road at Newark (8-15) on Wednesday night before an off day on July 4th and a game at Amsterdam (13-11) Friday night. The Dutchmen return home on Saturday July 6th for a game with the Adirondack Trail Blazers (7-13) starting at 7:05 PM. Saturday's game is the "PINK Game for Susan G. Komen for the Cure & the American Cancer Society," in which the players will wear pink jerseys that will be auctioned off. There will also be a huge raffle with great prizes, and Yankee Trails Baseball Bingo!