By: Dutchmen Front Office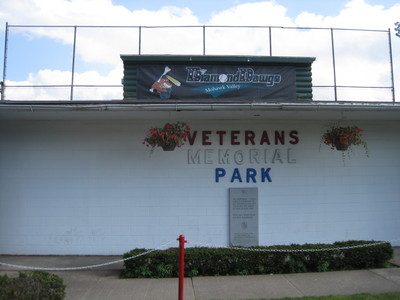 The Albany Dutchmen (18-12) mustered only two runs in Game One of a doubleheader in Little Falls, falling to the Mohawk Valley Diamond Dawgs (17-13) 3-2.

Albany got on the board in the first inning when Matt Dacey (Richmond) laced a double into the right center field gap, scoring Derrick Armstrong (Mississippi State). The lead would hold until the 4th inning when Dalton Herrington (ULM) scored on a passed ball by catcher Chris Bianchi (Trinity Texas). Herrington reached base on a single off of Albany starter Sean Spicer (Baylor).

Defensive miscues would do the Dutchmen in the rest of the way, as Mohawk Valley scored twice in the sixth on an error by Spicer and a wild pitch by reliever Chad Moss (Davidson). Albany would score a run in the 7th on an error by shortstop Casey Rodrigue (Indiana), but Armstrong would strike out to end the game with Anthony Marks on first. Marks also saw his 9-game hitting streak come to an end in this contest.

Jared Dye (ULM) got the win for Mohawk Valley, striking out 13 batters in a dazzling complete-game effort. Sean Spicer (Baylor) pitched well but took the loss. He gave up two runs on six hits and struck out 2.

In Game Two, Albany's bats were muzzled by Diamond Dawgs pitcher Willie Shaw (William and Mary) in a 4-0 loss. The Dutchmen fell to 18-12, while Mohawk Valley improved to 17-13.

Shaw---who was the designated hitter in game one of the doubleheader--- pitched seven strong innings and only allowed four hits. The Dutchmen had a runner on third in both the first and second innings, but were unable to get a runner home either time. Derrick Armstrong (Mississippi State) had two hits in the contest for the Dutchmen.

Mohawk Valley jumped on Albany starter Andrew Bannon (Skidmore) in the first inning, getting one run home on the strength of two singles, a walk and a fielder's choice. The Diamond Dawgs broke the game open in the fourth, scoring three runs on four hits, chasing Bannon from the contest. Bannon's record drops to 1-4 on the season.

The Dutchmen have Monday off before returning home on Tuesday for a single-game affair with the Elmira Pioneers at Bellizzi Field. First pitch is at 7:05 on 2or 2uesday at Bellizzi!
|
Back to index...