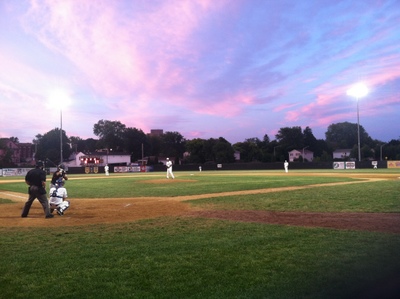 Albany, N.Y. – The Albany Dutchmen (21-16) lost both games of a doubleheader to the Amsterdam Mohawks (22-16) at Bob Bellizzi Field on Saturday night.
Amsterdam moved into third place in the PGCBL East Division with the two wins and Albany fell into fourth place, but still sits just two games back of division leading Glens Falls (23-14).
Both games of the doubleheader started slow offensively, as game one starters Sean Spicer (Baylor) of Albany and Matt Ternowchek (Notre Dame) of Amsterdam kept the game scoreless through the first three innings.
But after a solo home run from Amsterdam's Jordan Ebert (Auburn) broke the scoreless tie in the 4th, Albany responded with a two-RBI double off the bat of Matt Dacey (Richmond). Derrick Armstrong (Mississippi St.) added an RBI single of his own to score Dacey and give Albany a 3-1 lead.
Amsterdam added one run in the 5th inning and two more in the 6th to take the lead 4-3, before Albany tied the game in the 6th on a Chris Suseck (Coastal Carolina) RBI single.
With the game tied 4-4 entering the 7th inning, Amsterdam took a lead they would not give back. An RBI triple by Josh Gardiner (Radford) was followed by a pair of RBI doubles from Dylan Smith (Auburn) and John Sansone (Florida St.). Albany couldn't overcome the three-run deficit and lost game one 7-4.
Amsterdam's Mike Urbanski (Binghamton) picked up the win and moved to 4-2 on the season, while Mack Naughton (St. Rose) got his first loss. Spicer received a no decision, going 5.2 innings and giving up four runs on six hits.
Game two was also highlighted by starting pitching, as neither team scored through the first five innings. Amsterdam starter Matt Snyder (Fulton Montgomery CC) struck out eight batters in more than six innings of work, while Jose Hernandez (Dean) went 4.2 innings in his first start of the season and didn't allow a run.
Amsterdam batted around in the 6th inning, however, aided by an RBI single from Ebert and a two-run single from Smith. All in all Amsterdam scored four runs in the 6th inning, and added three more in the 7th. Gardiner and Brian Ruby (Binghamton) both drove in runs in the 7th, helping Amsterdam to a 7-0 win.
Snyder got the victory in game two, improving his record to 4-0 on the season, and Dutchmen newcomer Charles Parslow (Hudson Valley CC) picked up his first loss.
The Dutchmen return to action on Sunday night at home, in a big game with the first place Glens Falls Golden Eagles starting at 5:05 PM. Sunday night is Muscular Dystrophy Association night, and will feature a huge raffle with the opportunity to win a 42" flat screen HDTV, a trip for two to Foxwoods Casino, and more than 30 other great prizes!