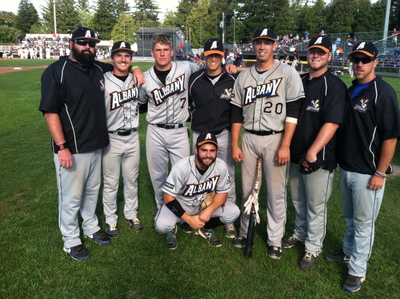 Newark, N.Y. – Albany Dutchmen first baseman Matt Dacey (Richmond) won the 2013 PGCBL Home Run Derby and four other Dutchmen played in the PGCBL All Star Game Wednesday night.
Six Albany Dutchmen players and one coach were selected to participate in the All Star festivities at Colburn Park in Newark, N.Y. Outfielder Anthony Marks (Coastal Carolina), infielders Zach Remillard (Coastal Carolina) and Tyler Orris (Millersville), pitchers Sean Spicer (Baylor) and Dylan Collett (Keene State), and assistant coach Sean Buchanon all took part in the All Star festivities.
Dacey was the tenth and final contestant to take his swings in round one of the Home Run Derby, and managed one homer. That was good enough to advance Dacey to the second round against Watertown's Tyler Decker (Jefferson CC), Adirondack's Chris Divarco (Northern Illinois) and Buddy Putnam (South Florida) of Glens Falls.
In the second round, where the batters were allotted only six outs instead of the 10 they received in round one, Divarco came up empty while Decker hit one. Putnam hit a pair of homers, requiring Dacey to hit at least one home run to stay alive. He did just that and advanced to the finals against Putnam and Decker.
In the final round of the Home Run Derby, Decker couldn't hit any homers while Dacey hit three. After Putnam could not match the three home runs, Dacey was crowned the 2013 PGCBL Home Run Derby Champion. Dacey hit five total home runs in the contest, and leads the Dutchmen with six homers and 25 RBI on the season.
As for the All Star Game, it was a high scoring contest early on with both the East and the West scoring a pair of runs in the 1st inning. Dutchmen outfielder Anthony Marks (Coastal Carolina) started the game in center field and was the leadoff hitter for the East. Marks began the ballgame with a base hit and would later come around to score on an RBI single from Josh Anderson (Florida International) of Glens Falls.
In the 2nd inning with the score tied 2-2, Albany shortstop Tyler Orris followed a home run by Mohawk Valley's Mike Fischer (Columbia) with a base hit and later scored as part of a three-run 2nd inning for the East. Orris also started the game, and went 1-3 on the night. Anthony Marks added an RBI in the 3rd inning to give the East a 6-2 lead.
Albany infielder Zach Remillard entered the game in the 5th inning as a defensive replacement, and in his first at bat in the 6th came through with a base hit.
Neither team scored any runs until the 8th when the East All Stars added an insurance run, making the lead 7-3 and setting the stage for Albany reliever Dylan Collett (Keene St.) to finish the game off in the 9th. Collett came through with a perfect 9th inning, and completed a 7-3 victory for the East All Stars.
All in all, Albany Dutchmen players accounted for three hits, two runs scored, and an RBI, while Collett allowed no runs or hits in his lone inning pitched.
The Albany Dutchmen (22-17) return to action tomorrow night at Bob Bellizzi Field for a doubleheader with Utica (12-22). Thursday night will feature a Tailgate Tournament where you can win a trip for two to Turning Stone Resort & Casino if you can score the most points in cornhole! Thursday night will also be All You Can Eat for $10 and will feature a special Capital Q Concession Menu between games. First pitch is set for 5:05 PM.