By: Dutchmen Front Office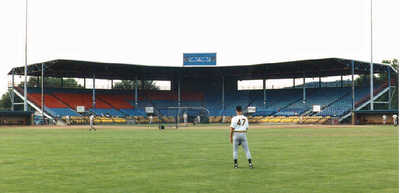 Two-out rallies spelled doom for the Albany Dutchmen (23-19) as they fell to the Elmira Pioneers (21-20) 11-9 at Dunn Field.

With the score tied at 9 in the bottom of the 8th, Chris Kalousdian (Manhattan) reached on a single, then scored on a hit by Taylor Hillson (Mansfield) and an error by Albany's Brian Ruhm (UC Davis). Hillson would score on a single by Spencer Henderson (UC Davis) in the very next at-bat. Elmira had tied the score in the prior inning on similar plays: a double by Chris Knott plus a throwing error, and an infield single by Dave Hoffmann.

The Dutchmen took the lead on four separate occasions in the ballgame, but each time the Pios found their way to the lead. Albany's last lead came in the top of the 7th, when Brad Noland (North Alabama) gave the Dutchmen a 9-7 lead with a two-run single.

Anthony Marks (Coastal Carolina) had two hits and two RBI's in the game and Matt Dacey (Richmond) had a two-RBI day of his own. Dutchmen starter James Davitt (Bryant) lasted into the sixth inning, but got a no-decision in the game.

Albany returns home for a pivotal game against East division foe Mohawk Valley at 7:05 P.M. at Bellizzi Field. It's Spotlight Player of the Week Award Recognition Night, and also Yankee Trails Baseball Bingo Night. The winner of Baseball Bingo will get a shopping spree in New York City! Also, the Dutchmen are giving away a Kindle Fire ($275 value) and two tickets to the Yankees-Tigers game on August 10th!
|
Back to index...