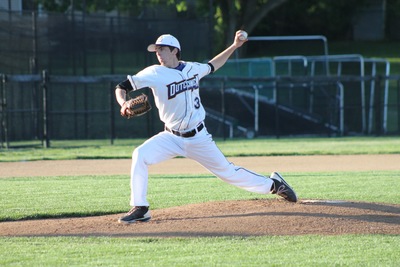 Albany, N.Y. – The Cooperstown Hawkeyes (18-24) took a game from the Albany Dutchmen (24-20) in Albany's race for the final playoff spot in the PGCBL East Division on Monday night.
The Dutchmen are still in control of the third and final playoff seed in the East, currently a half game ahead of fourth place Glens Falls (24-21), with four games remaining. The Dutchmen remain one game behind second place Mohawk Valley (24-18).
Cooperstown took the lead early against Dutchmen starter Bryan Carr (St. Rose), when Nate Lotze (Kenyon) drove in Ben Hall (Alabama Huntsville) from third on a groundout. The Hawkeyes added two more in the 2nd inning on an Albany throwing error and an RBI single by Hall, and led 3-0 after two innings.
Despite the three early runs, Carr settled in during the middle innings, and retired 13 straight batters between the 2nd and 6th innings. Carr lasted 7 innings, and gave up four runs on four hits. Only two of the runs allowed were earned, and Carr also struck out five batters.
Ryan Hanahan (Marietta) singled in Nolan Ray (Kentucky Wesleyan) in the 7th to give Cooperstown a 4-0 lead. The Dutchmen failed to score until the 7th inning, when Tyler Orris (Millersville) drove in Teddy Cillis (UNC-Wilmington), making the score 4-1.
Cooperstown got a terrific start from Gage Griffin (Franklin Pierce), who went six innings and allowed no runs on only four hits. The Cooperstown bullpen took care of the rest, and shut out Albany in the 8th and 9th innings after giving up a run in the 7th.
Cooperstown won their fifth game in a row, taking the game by a score of 5-1. Griffin earned his first win of the season and improved his record to 1-1, while Carr took his third loss and fell to 3-3.
Glens Falls split a doubleheader with Newark (20-25) to keep Albany in third place in the East. And Amsterdam won the East Division in walk-off style with a win over Mohawk Valley (24-18), which currently sits in second place and one game ahead of the Dutchmen.
Albany has at least four games remaining in its season, with the regular season scheduled to end on July 31. The Dutchmen take to the road for a doubleheader with Watertown (27-18), the first place team in the West, on Tuesday night, before finishing the regular season at Glens Falls in a non-traditional doubleheader. Albany and Glens Falls will finish a suspended game from earlier this month on Wednesday beginning in the 4th inning with Glens Falls holding a 4-0 lead. Both Tuesday and Wednesday's doubleheaders are scheduled to start at 5:05 PM.