By: Dutchmen Front Office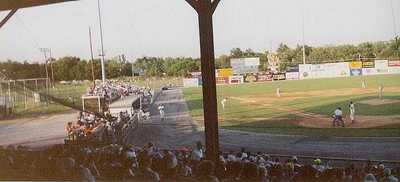 Watertown, N.Y. - The Albany Dutchmen (25-21) continued their pursuit of the third and final playoff spot with a double header at the Watertown Rams (28-19). The Dutchmen shut out Watertown in Game 2 with a final of 4-0, while the Rams won Game 1 with the same score of 4-0. The Dutchmen end the night tied for third place in the East Division with Glens Falls.

Pitcher Jose Hernandez (Dean College) dominated the Watertown lineup in Game 2. He went the full seven inning game, scattering five hits with three walks and seven strikeouts. Hernandez improves to 3-1 for the Dutchmen this season.

Zach Remillard (Coastal Carolina) hit a three-run home run in the 1st inning to give Albany the early lead. He also doubled and tripled, putting him just a single shy of the cycle. Anthony Marks, another Coastal Carolina product, picked up a RBI with a bases loaded walk in the 6th inning.

In Game 1, the Dutchmen offense had a tough time finding answers for Rams starter Kevin Klaess (Cypress College). Klaess only surrendered four hits over his six plus innings of work.

Rams infielder Riley Smith (Occidental) scored on an error in the 1st inning and hit a RBI single in the 2nd. Watertown added two more runs in the 3rd inning, one via a Dutchmen error and the other with a Brad Rush (St. John Fisher) sacrifice fly.

Albany starter Dylan Collett (Keene State) let up six hits through five innings. Of the four runs Watertown scored, only one was earned. He is now 3-1 on the year.

Albany finishes the regular season with a non-traditional double header at the Glens Falls Golden Eagles on Wednesday night. The teams will continue their suspended game from July 7th with the Golden Eagles leading 4-0 at the end of the 4th inning. The resumed game will be played to a nine-inning conclusion, with first pitch set for 5:00PM. Approximately thirty minutes after that game is completed, the regularly scheduled nine-inning game will take place.

After tonight's double header sweep of the Elmira Pioneers, the Mohawk Valley DiamondDawgs (26-18) clinched the 2nd seed in the East division. Albany and Glens Falls are tied in 3rd place, with identical records of 25-21.

The Dutchmen will advance to the playoffs as the 3rd and final seed if they win at least one game in Glens Falls tomorrow night. Albany owns the tiebreaker over the Golden Eagles, leading the season series 5-3. Glens Falls will have to win both games of tomorrow's double header to send Albany packing and make it to the postseason.
|
Back to index...