By: Dutchmen Front Office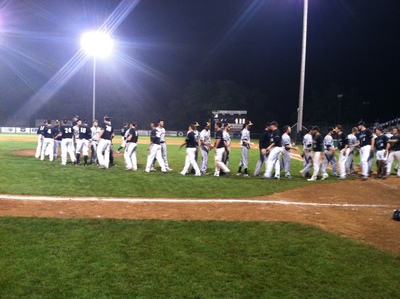 Little Falls, N.Y. – In what can only be described as sheer mind over matter, the Albany Dutchmen (27-22) fought tooth and nail with the Mohawk Valley DiamondDawgs (26-20) and prevailed in 11 innings by the score of 6-5.

With the win, Albany advances to the PGCBL East Division Championship Series against the #1 seed Amsterdam Mohawks (31-16). The win comes almost 24 hours after the Dutchmen defeated Glens Falls in a 16-inning marathon game---the second time those two teams fought to sixteen innings---to make it to the playoffs.

The Dutchmen have played an eye-popping 46 innings of baseball over the last three days: a double header in Watertown consisting of two seven-inning games on Tuesday, 21 innings Wednesday night in a non-traditional double header at Glens Falls, and the 11 inning game Thursday against Mohawk Valley.

Tyler Orris (Millersville) drew a bases-loaded walk in the 11th inning off of DiamondDawgs pitcher Tyler Bray (Louisiana Monroe) to score the game-winning run. The game was tied at 5 before Orris drew the base on balls, and the game had been tied before at 3 and at 4.

Matt Gallup (UAlbany) was sensational for the Dutchmen on the mound, pitching seven strong innings while allowing four runs on five hits and striking out five. The bullpen was nearly unhittable in the final three frames as winning pitcher Thomas Belcher (Indiana) threw two innings of one-hit ball. Bryan Carr (Saint Rose) struck out Willie Shaw (William and Mary) in the bottom of the 11th to end the night in Little Falls.

Matt Dacey (Richmond) hit a go-ahead home run in the 7th inning to give Albany a 5-4 lead; but Mohawk Valley tagged Dylan Collett (Keene State) with a run to tie the game at 5.

The win over the DiamondDawgs is Albany's first playoff victory in its first playoff appearance, and it means they play at least two more games. Game One of the East Division Championship Series is Friday, August 2nd at 7:05PM from Shuttleworth Park in Amsterdam.

Saturday, August 3rd will be a historic day at Bellizzi Field as it will mark the first-ever home playoff game for the Dutchmen in the PGCBL. First pitch is set for 7:05PM.
|
Back to index...