By: Dutchmen Front Office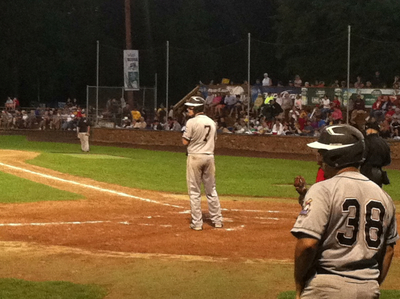 Amsterdam, N.Y. - The #3 seed Albany Dutchmen could not mount a comeback in the PGCBL East Division Championship Series, dropping Game One 4-2 against the top seeded Amsterdam Mohawks.

Trailing 4-1 entering the top of the 9th, the Dutchmen not only scored a run, but had the tying run in scoring position with two outs. However, Mohawks closer Mike Urbanski (Binghamton) recorded a strikeout to finish the game.

Amsterdam took a 2-0 lead in the bottom of the 3rd inning. Jordan Ebert (Auburn) smacked a solo home run, and Kyle Barrett (Kentucky) hit a sacrifice fly.

The Dutchmen got on the board in the 7th inning, thanks to a RBI groundout for Anthony Marks (Coastal Carolina). But the Mohawks responded in the bottom of the inning with a Jordan Ebert sacrifice fly.

Ed Charlton provided the Mohawks with some insurance in the 8th inning with a RBI double.

In the top of the 9th, Luke Nethaway (College of Saint Rose) singled. Justin Brock (Franklin Pierce) executed the hit-and-run to put runners on the corners for Albany. Marks was due up next, and the Dutchmen center fielder hit a clutch RBI single and advanced to second base on a Mohawks error. Unfortunately for the Dutchmen, Bradley Noland (Univ of North Alabama) lost the battle with Urbanski to end the game.

Albany starter Charles Parslow (Hudson Valley CC) pitched a tremendous game, giving up just two hits and one earned run over six innings. Despite his efforts, he is credited with the loss.

Game 2 of the three-game series is at Bellizzi Field on Saturday, August 3rd at 7:05PM. This will be the first ever home playoff game for the Dutchmen in franchise history. Albany Mayoral candidate Kathy Sheehan will be at Bellizzi to throw out the ceremonial first pitch! The Dutchmen must win tomorrow night's game to force Game 3 Sunday night at Shuttleworth Park in Amsterdam. The gates will open at 6:00PM for tomorrow night's contest.
|
Back to index...