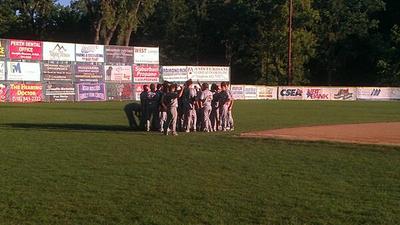 Amsterdam, N.Y. – The Amsterdam Mohawks defeated the Albany Dutchmen 9-4 in game three of PGCBL East Division Championship Series, ending the best season in franchise history for the Dutchmen.
Amsterdam advances to the PGCBL Championship Series for the third consecutive year, and will host the Elmira Pioneers in the first of a three-game series on Tuesday in an attempt to defend its 2012 title.
The Dutchmen made the franchise's first ever playoff appearance in 2013, along with winning a franchise-record 26 games during the regular season. Albany had won three elimination games over the last five days, but was unable to overcome seven errors in Sunday night's series-deciding game.
Game three started much like game two, with a total of nine runs scored in the first three innings. After Anthony Marks (Coastal Carolina) singled in the first at bat of the ballgame, he later came around to score on an infield single by Tyler Orris (Millersville).
Amsterdam responded with two runs of its own in the home half of the first inning, aided by two Albany fielding errors. Dylan Smith (Auburn) brought in a run on a sacrifice fly, Ed Charlton (New Jersey Tech) added another run on a base hit, and Amsterdam led 2-1 following the first.
After Albany was retired in order in the second inning by Amsterdam starter Trey Wingenter (Auburn), the Mohawks made the score 3-1 with an RBI single from Jordan Ebert (Auburn) in the bottom half. But true to form, Albany responded with three runs in the third inning thanks to a three-run home run from Matt Dacey (Richmond). It was Dacey's second home run of the postseason, and it gave Albany a 4-3 lead.
Amsterdam shortstop John Sansone (Florida St.) answered Dacey's home run with his own two-run homer in the bottom half of the third, and changed the lead once again. But with Amsterdam leading 5-4 after three, the middle innings did not see any runs.
Albany starter Dylan Collett (Keene State) lasted just over two innings, and was replaced by Sean Spicer (Baylor) in the third inning. From the fourth to the sixth inning, Spicer allowed just one hit and struck out five. Wingenter gave up just two hits during the middle three innings and ended up pitching six innings altogether, giving up four earned runs on six hits and striking out four.
The seventh inning started with a 5-4 Amsterdam lead, but proved to be the deciding factor to put the game out of reach for Albany. After the first three Amsterdam batters reached via two walks and a hit batsman, a pair of Albany throwing errors allowed Josh Gardiner (Radford) to score. Then a fielding error scored two more Amsterdam runs, giving the Mohawks a four-run cushion, and a Kyle Barrett (Kentucky) RBI single brought in another run for Amsterdam. When it was all said and done, Albany had committed four errors and gave up four runs in the inning, and trailed 9-4 after seven.
Albany managed three hits over the final two frames but could not muster up another miracle comeback. Amsterdam earned a 9-4 victory, and advanced to the franchise's fifth straight league championship dating back to 2009.
Dylan Collett was hit with the loss while Wingenter earned his first win of the postseason. Brad Noland led the Dutchmen offensively with three base hits, while Amsterdam's Ed Charlton reached base four times and drove in a run.
While the 2013 season comes to an end for Albany, fourth-year head coach Nick Davey helped the Dutchmen finish the regular season with a franchise-best record of 26-22 and win two postseason games in the team's first ever playoff appearance, making 2013 the most successful season in Albany Dutchmen history.