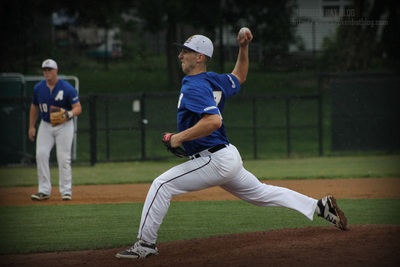 December 21, 2015
As 2015 comes to a close, DutchmenBaseball.com is taking a look back at the year that was, continuing today with the 2015 team's record-setting efforts.
The 2015 Albany Dutchmen, in addition to becoming the third consecutive Dutchmen team to make the PGCBL Playoffs, made an impact on the team record book during the seventh season of the franchise. Multiple players etched their names at or near the top of several categories, and the new record-holders are profiled below.
Michael Fitzsimmons (Ole Miss)- The team Player of the Year broke three team records during his All-PGCBL campaign, most notably the franchise RBI mark. His 36 RBIs broke the previous record, shared by the 2012 campaign of Zach Remillard (Coastal Carolina) and Matt Dacey (Richmond) in 2013. Fitzsimmons also sits atop the all-time leaders in doubles with 16, and in extra-base hits with 19. In addition, the infielder also had the third most at-bats with 163, the fourth most hits with 49, and his 74 total bases place second in franchise history.
Nick Cioffi (Saint Rose)- Cioffi's spectacular 2015 season saw his name atop three categories in franchise history, and in the top five of three others. In the seven seasons of Albany Dutchmen baseball, no player ever won more games (5), pitched more innings (59), or worked more complete games than Cioffi. He also posted 52 strikeouts, the third best total in team history, posted the third-best ERA (1.67) and recorded the fourth-best opposing batting average against at .181.
Sean Aspinall (Azusa Pacific)- In his second season with the Dutchmen, Aspinall came to the plate more than any player in franchise history, logging 165 at-bats to tie the franchise record set by Bradley Noland (North Alabama) in 2013. In addition, the outfielder tied the franchise record with four triples, another record in which he is even with Noland. Aspinall also entered the record book with 29 runs scored, the fourth-best single season total, and 68 total bases, good for fifth.
Blake Allen (Baylor)- Allen set the team record for opposing batting average among pitchers with at least 20 innings pitched, allowing just a .162 batting average to opposing hitters. Over 15 appearances and 22 innings, Allen allowed just 12 hits, including ten outings without allowing a hit.
Several other players also posted top-five marks in team categories, both at the plate and on the mound. They are:
Grayson Lewis (Rice): 29 runs scored (4th), .413 on-base percentage (4th)
Zach Remillard (Coastal Carolina): 10 doubles (5th)
Adam Gauthier (Dartmouth): 3 triples (3rd)
Jon Reid (Azusa Pacific): 4 wins (3rd), 2 complete games (2nd)
The Dutchmen congratulate all the new record-holders, and look forward to new records being set in 2016. The entire record book can be found here.
Next week: DutchmenBaseball.com looks ahead to 2016.