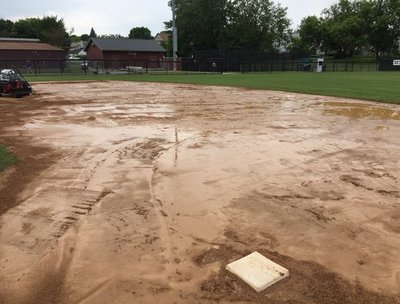 The Albany Dutchmen (5-2) cancelled their game today against the Amsterdam Mohawks (4-4) due to unplayable conditions.
Heavy rain throughout the day soaked a majority of the infield, especially near the shortstop position.
The grounds crew spent all afternoon working to prepare the field for the 7:05 p.m. game. However, playable conditions were unable to be met and the contest was called off at 5:04 p.m.
The game will be rescheduled into a doubleheader Saturday June 26, 2016 at 5:05 p.m.
Albany will be back in action tomorrow at 5:05 p.m. at Bellizzi Field against the Glens Falls Dragons. The Mohawks are off until Monday when they take on Utica at home at 6:35 p.m.