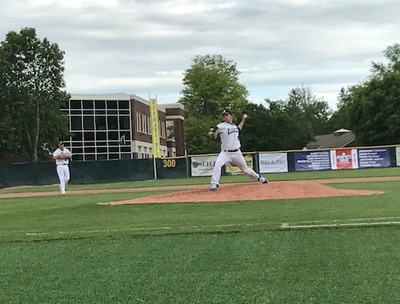 It was business as usual for Tommy Miller (Siena) as he stepped to the mound at his home park for Opening Day at Siena College Ballpark for the Albany Dutchmen. Miller tossed 5.1 innings of 3-hit ball to keep the Mohawk Valley Diamond Dawgs from threatening to spoil the Dutchmen's debut at their new ballpark.
In front of a packed grandstand, Miller showed why he was chosen to deal on Opening Day.
"It was really nice to get back out there," Miller said. "I love pitching. I love being out there. Being at Siena makes it even more comfortable and gives me more confidence in my pitching...Obviously during the year I'm pitching here so I get more and more used to the mound every day."
The Dutchmen got the bats working in their first win of the season, as leadoff man Nick Estrella (Azusa Pacific) took Mohawk Valley deep in the bottom of the 5th for a 2-run home run that stretched the lead to three runs. Trace Tyre (Ole Miss) also had a big day at the plate, as he finished 3-for-4 with an RBI. Chase Allen (Limestone) added 2 hits and 2 runs to the Dutchmen total, and Brandt Holland (North Alabama) roped a double down the left field line in the bottom of the 8th inning to continue his hot start at the plate.
"It felt really good to get the 'W' at home," Tyre said. "It was really good to get off to a good start...I felt pretty good at the plate today. I was seeing it well, picking up the fastball."
The collective effort on the mound for the Dutchmen was impressive, as four pitchers combined to give up only 6 hits. Justin Bureau (Ave Maria) earned the save in the 9th inning, sitting the Diamond Dawgs down in order with a pair of strikeouts.
The Dutchmen are back in action at home tomorrow against Glens Falls, with first pitch set for 5:05 p.m.