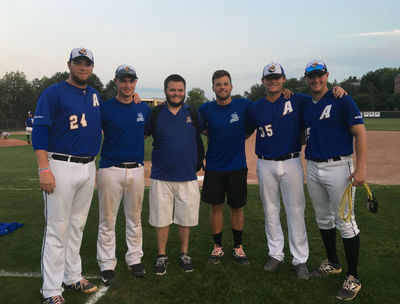 ALBANY, N.Y.- Led by Russ Olive's (UMass Lowell) three-run triple, the Mohawk Valley DiamondDawgs rallied back from a 3-1 deficit to eliminate the Albany Dutchmen, winning 4-3 and advancing to the next round of playoff play.
Albany took the two run lead into the seventh inning and handed to ball to left hander Adam Elliott (Louisville). Elliott started by striking out Nico Ramos (Siena) but ran into trouble as Joe Engle (Columbia) hit an infield single, Alexis Monge-Rodriguez (Barry) followed with another single, and Tim Zeng (Fairfield) was hit by a pitch with a 1-2 count. Elliott bounced back, recording a huge strikeout of Austin Pollack (Hofstra) on a full count pitch. Olive then engaged in a long battle with Elliott, battling back from an 0-2 count to a 3-2 count with two outs. Olive lined the next pitch to center field, where Justin Childers (Ohio Dominican) dove for the ball and missed by inches. The bases were cleared as the ball rolled to the warning track in center field and the DiamondDawgs took a 4-3 lead. Elliott struck out Ben Porter (Columbia) to end the inning.
The Dutchmen turned a 1-1 game into a 3-1 lead in the sixth inning. After Levi Abrahamson (Treasure Valley C.C.) struck out Nick Estrella (Azusa Pacific) and Nick Gallo (Oklahoma State) was thrown out at second base trying to stretch a single into a double, the Dutchmen rallied. Brandt Holland (North Alabama) and Trace Tyre (Ole Miss) hit back to back singles. Childers followed with a line drive to right field that dropped in to score Holland and give Albany the lead and chase Abrahamson from the game. Chase Allen (Limestone) followed with another clutch hit, a single off of Nick Caregnato (North Carolina Central) to deliver Tyre and bring the lead to 3-1.
Albany received another fantastic start from Greg Marino (Stony Brook). Marino delivered six innings of one run baseball, walking four batters, but only allowing two hits and one run. He struck out five batters and allowed one baserunner or less in five out of his six innings.
Mohawk Valley fought back from a 1-0 deficit against the stingy Marino during the fifth inning. Clay Koniencki (Monmouth) was hit by a pitch to start the inning. After a sacrifice bunt by Dan Deely (Sacramento State), Ramos walked and Engle delivered a single to load the bases. Monge-Rodriguez followed with a base hit, tying the game and keeping the bases loaded. Marino proceeded to limit the damage, as he got Zeng to pop out to left field and forced Pollack to ground out to end the inning.
Albany struck first in the ballgame off of starting pitcher Jack Fossand (Dartmouth). After two quick outs were recorded to start the third inning, Brad Gneiting (Rice) delivered a double to keep the innings alive. Deely, the third baseman, made an error on Estrella's ground ball that followed to put runners at the corners. Gallo delivered a double to give the Dutchmen the lead and end Fossand's game after 2.2 innings.
With Albany trailing 4-3, the DiamondDawgs brought closer Zach Vennaro (Mount Olive) to try to record his first six out save of the season. Vennaro delivered with a scoreless eighth inning. In the ninth inning, Vennaro struck out Allen and got Jon Skidmore (Dallas Baptist) to ground out to start the frame. Griffen Herrera (Azusa Pacific) fell behind 0-2 but battled back to work a walk and keep the season alive for one more batter. Vennaro proceeded to strike out Gneiting after another long at bat to send Mohawk Valley to the second round of the playoffs. The DiamondDawgs will play the winner of the Amsterdam Mohawks versus the Saugerties Stallions game in a best two out of three series.